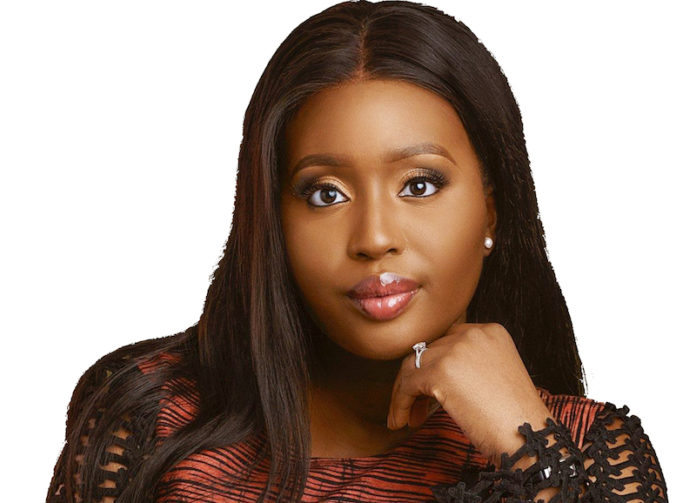 There's a lot to admire about Adesuwa Okunbo-Rhodes. She is one of the few African women who have created and managed an investment fund for African women entrepreneurs in the last three years. With a great deal of experience in the finance sector and a passion for promoting gender equality, Adesuwa has focused on changing the country's narrative for female investors and female-led businesses. Through her fund, she has been able to generate strong financial returns, facilitate job creation and deliver long term positive social and economic impact on the country. A globally-recognised finance expert with a pan-African reach, Adesuwa was recently named on the Black Women in Asset management 40 under 40 list and as one of the Nigerian women breaking the bias by Vanguard Newspaper. Okunbo-Rhodes, in this interview with Azuka Ogujiuba, talks about the positive impact of investing in women and the roles of SMEs as vehicles of growth and economic development.

Can you briefly tell us about your background?
As a young girl, I always had an interest in finance and economics. This provided a good foundation for my journey into the world of investment banking. I hold a BSc in Economics from the University of Bristol, and during my first year at the university, I started my career in investment banking at Lehman Brothers. Upon graduation from university, I got a job in investment banking with J.P. Morgan, London, where I was involved in $5.6 billion worth of transactions across developed and emerging markets, including Nigeria. From there, I moved to TLG Capital, an Africa-focused private equity fund involved in numerous transactions across Anglophone Africa. At TLG Capital, I made a successful investment in Uganda that generated attractive financial returns and brought about a huge social impact.
That experience cemented my interest in impact investing and private equity in Africa. In 2014, I became a co-founding partner at Syntaxis Capital Africa, a provider of growth capital to SMEs in Nigeria and across Sub Saharan Africa and I led transactions totalling over $200 million across SSA. With a wealth of experience spanning 11 years in investment banking and private equity, I launched Aruwa Capital Management with my savings in July 2019. Aruwa Capital Management is a Lagos based, early-stage growth equity and gender lens – a $20 million fund – that invests between $500,000 and $2.5 million in equity and equity-linked instruments into established and rapidly growing businesses within Nigeria and Ghana that are currently overlooked by other private equity funds. Aruwa Capital invests in businesses that either provide goods or services that cater to the untapped $15 trillion female economy or businesses that are founded/led by women or employ women in their workforce/value chain. I am proud to be pioneering with my team, one of the few women-owned funds in Africa investing with this gender lens.
What light-bulb moment motivated you to launch your private equity fund?
At Syntaxis Capital Africa, we struggled to fundraise for over four and half years. When I looked around the private equity industry in Africa, I was surprised to see that there were less than 10 private equity funds owned and run by women in Africa that had successfully raised capital. I saw a huge gap in the industry and saw it as an exciting arbitrage opportunity.
It was sad to see that in a continent of about 1.3 billion people where women make up 50 per cent of the population and account for the highest percentage of female entrepreneurs in the world (one in four women in Africa are running a business, four times more than Europe) female entrepreneurs were still not able to get access to adequate funds for their businesses. Statistics at that moment showed that women were being underrepresented within the finance sector. The African Development Bank exposed the $42 billion funding gap existing between male and female entrepreneurs on the continent. Aruwa Capital was borne out of my desire to change the narrative. Women face a lot of structural barriers when trying to access funds for their businesses, so I decided to launch my fund in order to provide African female entrepreneurs with easier access to finance. I also wanted to encourage other female fund managers who, despite their track record and expertise similar to their male counterparts, still struggle to raise funds. My goal is to use our success stories to motivate and inspire others and showcase the business case to drive more investment in women as capital allocators and entrepreneurs.
What factors do you consider when selecting a business to invest in?
We focus on investing in established, rapidly growing companies within the small to lower mid-market that operate in high-growth industries that have already proven their business model. Our focus on the early-growth segment is intentional because that segment is currently overlooked and underserved as most of the commercial credit and private equity funds target much larger businesses. There are numerous small to midsize businesses in Nigeria that are growing rapidly and have an operating track record of profitability of at least three years but just lack that incremental capital to scale up. Most small to mid-sized companies in Nigeria and across West Africa have limited access to longer-term debt and/or private equity capital to finance their business plans and sustain growth due to the current composition of the industry.
Aruwa Capital focuses on providing growth capital to established and proven businesses in this untapped early-stage growth SME segment. We focus on businesses within high growth sectors such as FMCG manufacturing, tech-enabled non-banking financial services, healthcare, essential consumer goods, renewable energy and B2B services. The early-stage growth segment is also mostly free from competition. This is a huge opportunity for us as we are one of the few 100 per cent African women-owned and women-run private equity funds in Africa, so we can easily identify products and services that will benefit women and identify the best businesses that are producing solutions to problems women face. Our network also gives us access to the best female entrepreneurs, and as such, we have a very strong natural competitive advantage in finding and deploying capital to businesses by women and for women.
You're passionate about funding small and medium-scale businesses. How do you see these types of businesses influencing Africa in the near future?
Realising the untapped potential of the SME segment is crucial for Nigeria and the continent to realise its full potential. According to the African Development Bank, over 70 per cent of SMEs in Africa account for a third of GDP and are responsible for under half of total employment. If we can harness growth in the SME segment and provide these underfunded businesses with the flexible and patient growth capital they need, this will be an engine for economic growth and will also foster significant job creation. In Nigeria, the unemployment rate is forecasted to reach 33 per cent. I strongly believe that SMEs that are engines for innovation and disruption can play a crucial role in fostering job creation and ensuring Africa is at the forefront of technology disruptions in the years to come.
What's one thing you would encourage African governments to do to support these businesses?
The government should be more intentional in its effort to diversify the economy. There's a need to support and encourage more businesses that are driving industrialization, e.g., local manufacturing. I strongly believe import substitution will be an engine for growth for Nigeria and Africa at large, where we locally manufacture every day and essential items. There is also a need for reforms within the pensions industry. Nigeria has more than $25billion in pension assets, and we need to better utilise these funds for investments to match the long-term nature of the assets- private equity and infrastructure specifically. Instead of leaving those assets idle in short-term investments, we can raise capital from the pension funds to back industrialisation and invest in infrastructure. Government must also devise policies that would promote private sector development. Without a viable private sector, governments cannot sustain economic growth.
Have you ever faced gender bias within the investment space or as an entrepreneur?
Yes, definitely, it was challenging for me, as an African woman, to raise funds within a male-dominated private equity sector. I had to convince institutional investors that I was equal to the task and breakthrough several structural and systemic barriers that exist in our society to get Aruwa Capital to where it is today. To the glory of God, I am very proud of what we have been able to achieve despite the challenges we have faced along the way. We are changing the narrative for female fund managers and using our fund as an example and case study to make the business case to invest in women as fund managers and entrepreneurs. This goal keeps us focused and strong enough to weather all storms that may come our way because it's not just about us but the impact we will have on others along the journey.
There are a lot of female-owned businesses in Africa that are struggling to scale. What advice would you give African female entrepreneurs to help them position their business to be investor ready?
Positioning your start-up for investment is all about diligent preparation. I believe female entrepreneurs should focus on being prepared before seeking investments. Knowing every area of your business in significant detail is crucial and also getting your finances and governance in order early in your journey. It is also very important for business owners to have qualified leadership in place and develop a believable, actionable strategic plan that shows significant growth. I believe it's also easier to get investment if you have some traction first, no matter how small so utilise your angel investing networks, more women and men are actively angel investing in Nigeria today.
Do you think gender bias in Africa can ever be broken considering our cultures and values?
Yes. I believe it can be broken if we use Nigeria as an example. We have seen good strides in the finance and pension industries, where we have a significant amount of women in leadership positions. For gender bias to be broken, we need more women in leadership positions who are making decisions on hiring, promoting, retaining, investing etc. This way, as more women are in decision making roles, they are able to pull other women up and showcase the immense values women can bring to the table across all levels of the economy. I strongly believe the future is female, and Africa is ready to embrace the changes that are ahead for women.
What's the biggest mistake female entrepreneurs should avoid when starting a business?
A lot of female entrepreneurs get discouraged very early on in business and may give up or abandon the business because of that. I strongly believe that female entrepreneurs and women everywhere should remain focused and determined. They need to know what they want to achieve and have a dogged determination to achieve it, no matter what. One of my favourite quotes is that "a river does not cut through rock because of its power; it cuts through because of its persistence." That mindset has guided me in everything I do, and that's how I have been able to have some of my achievements in my life. My advice would be to never stop believing in yourself, don't be discouraged by the disappointment or the setbacks.
Being a female entrepreneur comes with a lot of responsibilities. How do you manage to achieve a good work-life balance?
I am an entrepreneur, CEO, mother, investor and women's empowerment advocate. It can be challenging to wear many hats as a woman. By the grace of God, I have learned to prioritize over the years. Having the unwavering support of my family and husband has also been very helpful. Most importantly, one has to look up to God for strength and wisdom because it is not easy for a woman to give her best in all situations. It is challenging but with a supportive family, God and determination. You can achieve the balance that works for you.
What are the next steps for Mrs Adesuwa Okunbo-Rhodes and for Aruwa Capital Management?
The future for Aruwa Capital is to continue to showcase the untapped potential that exists when women are capital allocators. Showing through our investment strategy the seamless intersection we have between a strong financial return, social impact and women's empowerment. In 2022, we are focused on deploying more capital so that we can have more success stories in our portfolio in addition to the six companies we have today. We are working on attractive investments in consumer goods, agritech and healthcare. For me, the next steps are to continue to build Aruwa Capital to the best of my ability and encourage other female entrepreneurs to bet on themselves. By the grace of God, we will be an example for others to follow.
link