"For now, the banking crisis … has had no significant impact on us."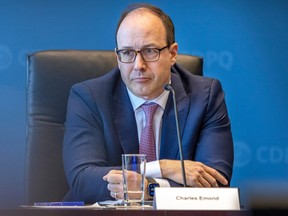 Article content
Recent U.S. bank failures could spark new investment opportunities for the Caisse de dépôt et placement du Québec as traditional lenders cut back on corporate credit, chief executive officer Charles Emond said Tuesday.
Article content
U.S. financial institutions have been under pressure since Silicon Valley Bank collapsed earlier this month after depositors pulled their money in droves. Two other regional banks subsequently met a similar fate, which several experts predict will weigh on credit availability as lenders focus on preserving liquidity.
Article content
"We see the crisis as Chapter 1," Emond told reporters after a speech to the Montreal Council on Foreign Relations. "If there is a contraction in bank credit, money has to find its destination. It doesn't mean that we will do more deals, but we will probably have more opportunities, which will allow us to be more selective. I think we can play an interesting role there."
Corporate credit is one of four "core areas" of the Caisse's $119-billion fixed-income portfolio. About $85 billion of that amount was invested in credit markets at year-end.
Article content
Unlike banks, the Caisse doesn't have to worry about a sudden wave of withdrawals — such as the one that brought down Silicon Valley Bank — when interest rates rise, which gives it more freedom to place long-term bets, Emond said.
"We don't have the same business model as a bank. They have customers," he said. "We are not in this situation. We have a credit portfolio. We have a much longer-term horizon and we are not susceptible to withdrawals by our customers. This protects us."
For corporate borrowers, the recent banking industry turbulence could be tantamount to another interest-rate hike, Emond said.
"What is the impact of this turbulence we have seen for two or three weeks? It remains to be seen, but it could be the equivalent of a 25, 50, even 75 basis point increase in interest rates," he said.
Article content
Although Silicon Valley Bank's failure briefly affected some of the Caisse's portfolio companies, the fund manager itself wasn't hit by the wider industry turmoil, Emond insisted.
"For now, the banking crisis, the banking turbulence has had no significant impact on us, really not," he said. Silicon Valley Bank's failure "was more of a liquidity crisis than a credit crisis, a bad match. Some of our portfolio companies were clients, but they managed to take their funds out a few days early. We monitor this daily."
Authorities "did what they had to do," he added. "This comes with a certain cost, a certain anxiety in the sector. For now, there are no impacts on any of the affected institutions. That being said, can we imagine that other financial institutions could suffer from this eventually? I think so."
Article content
Emond spoke to reporters after touting the virtues of the Caisse's international reach — and its global network of 5,000 portfolio companies, which he said can benefit Quebec entrepreneurs who seek to expand abroad by providing them with partnership or development opportunities. Nearly three-quarters of the Caisse's $402 billion in net assets are invested outside Canada, while about $80 billion are invested in Quebec.
"Exporting Quebec and importing returns: This is really what we are trying to do," Emond told his business audience. "I think we can bring a competitive advantage to everyone who looks at expanding internationally. Don't hesitate to come to see us, because we are here for this. You'll be surprised at how we can help you."
Caisse de dépôt eyes federal high-frequency rail project

Caisse posts $24.6-billion loss in worst showing since 2008 financial crisis
link