Price targets for seven banks reduced by five per cent on average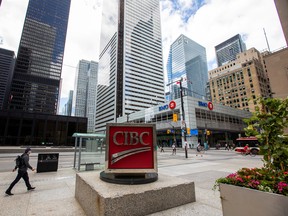 Article content
Rising interest rates are generally expected to work in the favour of Canada's big banks, but one team of analysts is taking a cautious stance toward their share prices given the wider economic backdrop.
Article content
Analysts at Canadian Imperial Bank of Commerce this week came out with across-the-board target price cuts for the big Canadian banks, arguing that the macroeconomic picture was becoming less certain, and could drag on results in 2023.
CIBC analyst Paul Holden reduced price targets for seven banks by five per cent on average, cutting the Bank of Nova Scotia (from $94 to $86), the Bank of Montreal (from $150 to $142), the Royal Bank of Canada (from $149 to $146), Toronto-Dominion Bank (from $103 to $100), National Bank of Canada ($102 to $100), Canadian Western Bank (from $38 to $34) and Laurentian Bank (from $44 to $41). The CIBC analysts do not maintain a rating or price target on CIBC.
Holden and his team reduced forward-looking adjusted earnings per share by one per cent for 2022 and by four per cent for 2023 in anticipation of slowing loan growth and higher credit losses.
Article content
While National Bank and RBC had their target prices trimmed, the team gave them an "outperformer" rating due to lower valuation gaps among their peers, implying less risk and a more defensive position in a recessionary environment.
In a note to clients, Holden argued that banks were currently priced in-line with a five-year average price to book value multiple of 1.7x, or about the same rate expected in a normal economic scenario and not accounting for an economic recession.
"If the outlook for economic conditions continues to be challenged, then there is downside risk to valuations," Holden wrote.
While Holden expects strong results in the banks' upcoming second-quarter earnings reports to be driven by loan growth of more than two per cent quarter-over-quarter, he noted that the "headline results might not matter all that much" as an economic slowdown is increasingly being priced into the market.
Article content
JPMorgan shareholders rebuke CEO as only 31% support executive-pay proposal

Goldman Sachs says senior staff can take as much time off as they want to 'rest and recharge'

Why the CEO of buy now, pay later giant Klarna has his sights set on Canada
Concerns about the slumping macroeconomic outlook were echoed by National Bank analyst Gabriel Dechaine in a May 15 note, in which he wrote that he expects a volatile macroeconomic and geopolitical backdrop to moderate the pace of performing provision reversals among the banks this quarter.
The CIBC analysts also pointed to slowdowns in the residential mortgage market and business loans that are expected to impact results after the second quarter.
The target cuts come at a time when Canada's bank stocks have been slumping, down between five and 11 per cent since the beginning of the year, with steeper declines from the sector's highs in February. Scotiabank has fallen the most of the Big Five this year, slumping 11 per cent to $80.55.
Fears of an economic contraction led Veritas Research investment analyst Nigel D'Souza to be one of the first out of the gate issuing downgrades to five of Canada's big banks from "buy" to "sell" in February. The only bank that was spared was the Bank of Montreal largely due to its Bank of the West acquisition.
The Big Five banks will report their second-quarter results next week, starting on May 25 with the Bank of Montreal and Scotiabank, followed by RBC, TD, and CIBC on May 26.
• Email: [email protected] | Twitter: StephHughes95

link