The falling costs of space tech deployment will have a positive effect on climate tech capabilities, says Oliver Warren, Investment Banking Associate at DAI Magister.
The space tech industry has long been the domain of multi-billion-dollar government-funded projects. However, that has changed with new launch vehicles like SpaceX, Virgin Orbit, and others dramatically lowering the cost per kilogramme of getting a payload into orbit.
This, in turn, has unlocked the opportunity for new use cases (e.g. low-cost satellite-based broadband, space robotics, and improved earth observation by radar and imaging technologies for commercial uses).  As a result, over the last five years, space tech investment has increased from $1.7bn in 2017 to $6.2bn as of Q3 2022.
This growing investment is reflected in the number of satellites set for deployment, which will rise from 3,300 today to an estimated 65,000 over the next decade. Many of these satellites have climate-related applications, allowing for rapid and accurate data collection over huge areas. As deployment costs decline further, this number will only grow, significantly enhancing our ability to combat a wide variety of climate-related challenges.
The path to Low Earth Orbits and sustainability in space
In order to get those 65,000 satellites into orbit in the first place, there has been a quantum leap forward in space tech launches. SpaceX is the most high profile of this, but there are many others nipping at its heels, such as GIC-backed Skyroot from India and Astra and Rocket Lab from the US –which will enable cheaper, on-demand reusable launchers.
Much of the explosion in the volume of satellite deployment is in the overlapping segments: i) small satellites, and ii) Low Earth Orbits (LEO). Whilst those new launchers act like a big truck hauling those satellites up into space, there is a need for the equivalent of a FedEx step van to do last-mile delivery and put those small satellites into the desired orbit.
Italian-based space tech company, D-Orbit, helps solve this through their revolutionary ION (an in-orbit transfer vehicle), which can hold several satellites on top of a SpaceX launcher and then, once in space, go and deploy them each into the exact LEO that they need.  This means that satellites benefit from dramatically lower time from construction to in-orbit (a matter of a couple of months versus a couple of years previously) and hence time to monetisation. D-Orbit completed six deployments in 2022 and three within the first few weeks of 2023.
LEO comes with its own set of challenges. Due to the thin atmosphere still extending a few hundred kilometres above Earth's surface, satellites in LEO slowly decay and fall back to Earth over a handful of years.  Hence there is a need to refresh constellations used in low-cost satellite broadband providers (OneWeb, Starlink) on an ongoing basis, providing repeat business for space tech launchers, in-orbit transfer vehicles, and other satellite services businesses.
Companies are also working on different ways of ensuring that putting these satellites in space is done sustainably. One way is to extend satellites' service lifetime in space through repairs and refuelling, reducing the need for a new launch in the first place. This is something which D-Orbit is also working on. MDA, of Canada, demonstrated the successful transfer of batteries and a computer on its Orbit Express mission.
Another way to reduce the impact is to ensure that satellites that have reached their end of life, and other non-functioning items in orbit (e.g. the discarded upper stages of launch vehicles) that make up space junk are safely dealt with before they collide, showering debris into vital space tech infrastructure.
Astroscale of Japan recently raised $76m to help it continue its development of a solution, whilst Clearspace of Switzerland also raised €26m for its robotics-based approach.
The rise in extreme weather events
The effects of climate change are becoming more noticeable, with one of the most visible impacts being the rise in extreme weather events. In the last 40 years, extreme weather events have tripled, and this trend shows no sign of abating. Consider the recent flooding in Auckland, New Zealand, the most severe in recorded history, as a prime example.
Against this backdrop, a growing pool of space tech satellite companies are looking to provide more granular detail and access to governments, especially in the developing world, that lack the radar infrastructure to alert their populations of extreme inclement weather. Companies such as Tomorrow.io, Cervest, and ICEYE are leading the way in providing satellite-based solutions that can help better understand, predict, and prepare for these extreme weather events.
Tomorrow.io uses Earth Observation (EO) data and proprietary AI to monitor and predict weather and climate events. Their platform can provide users with a detailed, up-to-date view of weather and climate conditions in any given location. Cervest, on the other hand, has developed an advanced climate intelligence solution to help businesses and governments better prepare for and manage the risks associated with climate change. The company's solution combines satellite imagery, weather station data, and direct observations to create a dynamic climate model to monitor potential risks.
ICEYE, which recently raised an impressive $136m Series D funding round, is a world-leading SAR data provider and expert in NatCat solutions. The company owns the world's largest synthetic-aperture space tech radar constellation, which can deliver unmatched persistent monitoring capabilities for any location on Earth.
How space tech can save our infrastructure
It's estimated that the United Kingdom loses one-fifth of its water supply due to pipeline leakages. This is a severe problem that is only compounding water shortages caused by climate change. Companies such as Asterra and Rezatec are using satellites to detect water leakages from orbit, allowing utility companies to more rapidly identify and repair leakages. These technologies can save upwards of 5.5 million litres of water per day.
Asterra, a global leader in using EO to reduce water loss, is able to use satellite data to map ground saturation levels over large areas, down to depths of ten feet. This means that they can monitor the condition of underground infrastructure, the ground stability for roads and railways, and detect water leaks.
UK-based space tech company, Rezatec, provides geospatial data-driven platform solutions for water utilities, government agencies, and the greater infrastructure industry. The company's solutions use Polarimetric Synthetic Aperture Radar (PolSAR) data from satellites to monitor water, forestry, and agricultural assets, enabling the optimisation of resources.
These (and other) companies are introducing game-changing space tech capabilities in the global quest to achieve net zero emissions, opening up for the first time the potential to monitor in near real-time everything from the energy wastage due to poorly insulated buildings to how much energy a power station is generating.
How can satellites increase agricultural supply?
With the planet's population expected to reach 9.8bn by 2050, the demand for food production is set to grow exponentially in the coming decades. The primary challenge lies in the limited availability of arable land, especially in Africa, where the population is growing faster than anywhere else.
To meet demand, the world will need to produce 56% more food by 2050, and with most arable land already utilised, we must look for ways to increase the efficiency of existing resources. A growing number of innovative space tech companies are now working on doing just that.
Israeli crop intelligence provider Taranis is utilising satellite imagery and sensors to provide farmers with real-time analysis of their crops and fields in order to increase their production and crop yields. Since launching in 2015, Taranis has worked with the world's top agricultural retailers and crop protection companies, serving millions of acres for customers in the United States, Brazil, and Europe.
The Waterloo-based space tech company, SkyWatch, has developed a platform to provide farmers with a comprehensive view of their operations. The platform uses satellite and other remote sensing data to generate detailed reports and analytics about crops and soil health and other environmental factors such as weather and climate.
In Europe, Belgian satellite manufacturer Aerospace Lab, which raised €40m in a funding round led by Airbus Ventures, is making geospatial intelligence more actionable and affordable. The company designs, manufactures, and operates a constellation of remote sensing satellites that enable enhanced forecasts and optimisation of food production within space tech.
German space tech start-up Constellr is on a mission to safeguard the world's food supply chain by harnessing the power of space-based water monitoring. The company is pioneering thermal infrared microsatellites for monitoring global land surface temperature (LST). The solution can detect early water stress via thermal imaging, contributing to enhanced yield, reduced operating costs, and optimised resource & supply chain management.
Space tech is taking off – we are only just getting started
With space-based data becoming more precise and costs decreasing, the ability of space tech to combat a wide variety of climate-related challenges is significantly expanding.
High initial investment costs mean there is a real first-mover advantage that investors should be looking to capitalise on. We can foresee space tech investment surpassing $7.5bn this year, despite the downturn across many other sectors in the market. The global space industry is expected to reach $1.4tn by 2030, and these current levels of investment will have to persist and accelerate to reach that goal.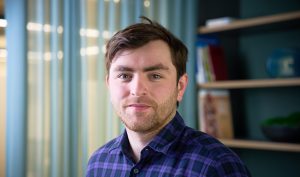 Oliver Warren
Investment Banking Associate
DAI Magister


link