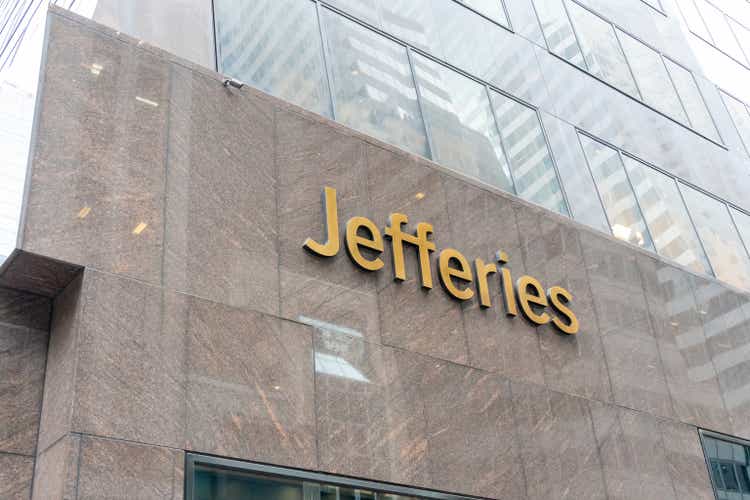 Research Summary
Today I'll be rating Jefferies Financial Group (NYSE:JEF), a stock in the financials sector, and the investment banking & brokerage subsector.
Their most recent quarterly earnings release was on June 27th, and some of that data we will dive into today.
For readers less familiar with this company, here are relevant points from their website: it's headquartered in New York City, and is a global full-service investment banking & capital markets firm. Its stock trades on the NYSE.
It was ranked #12 in Wikipedia's list of largest full-service investment banks in the US.
Two key peers of this company are Stifel Financial (SF), and Evercore (EVR).
Rating Methodology
Using a process similar to 5 project phases in project management, I break down my overall holistic rating of this stock into 5 categories I rank individually and of equal weight: dividends, valuation, share price, earnings growth, and financial health.
If I recommend this stock on at least 3 of 5 categories, it gets a hold rating. 4 of 5 gets a buy, and less than 3 gets a sell rating. Then I compare my rating to the consensus from analysts, Wall Street, and the quant system.
Dividends
In this category, I will analyze the dividends of this stock and whether I think they present an opportunity for dividend-income investors. The data comes from official Seeking Alpha dividend info.
As of the writing of this analysis, the forward dividend yield is 3.30%, with a payout of $0.30 per share on a quarterly basis, with the most recent ex-date being Aug. 11th.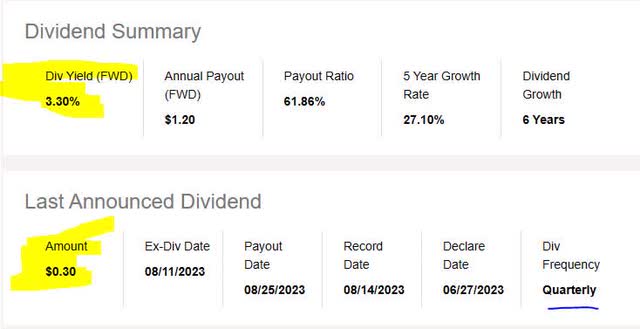 When comparing to its sector average, this dividend yield is 11.5% below its sector average. I believe this is a negative point to consider for dividend investors who are comparing multiple stocks in which to invest.

In looking at the 5-year dividend growth for this stock, it has shown a positive upward trend. This is, in my opinion, a positive point for dividend investors and a sign of this firm's capacity to return capital back to shareholders.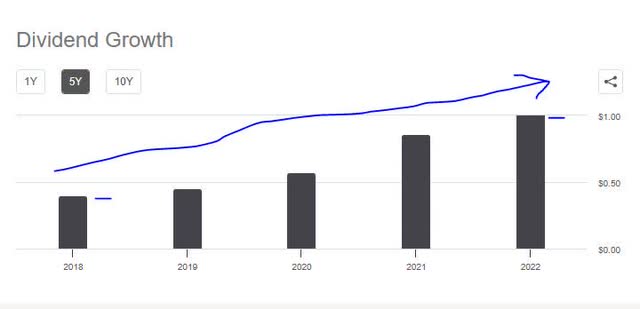 Additionally, I am looking for stability with dividend payouts, and this stock has shown regular dividend payment history lately, which is a positive point to think about.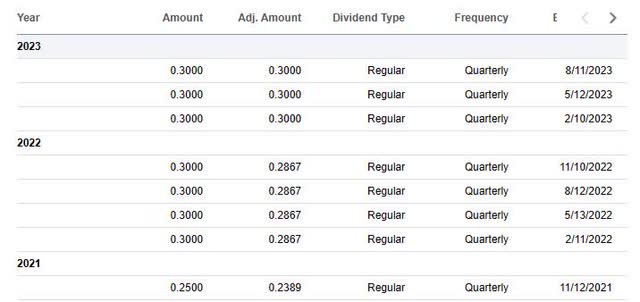 On the whole, I would recommend this company on the category of dividends. However, later in the section on share price, I will show how this dividend yield can be used in an investment idea for this stock as well.
Valuation
In this category, I will analyze the valuation of this stock. The data comes from official valuation info on Seeking Alpha, specifically the forward P/E ratio and forward P/B ratio, the key metrics I look at.
This stock has a forward P/E ratio of 28.50, which is a whopping 187% above its sector average. I think that a reasonable price to earnings for this stock would be between 7x forward earnings and 11x forward earnings, to stay within a reasonable 2-point range of the average. In this case, on this metric the stock appears considerably overvalued vs its overall sector.

This stock has a forward P/B ratio of 0.88, which is 14% below its sector average. I think that a reasonable price-to-book value for this stock would be between 0.80x book value and 1.7x book value, to stay within a 1/2 point range of the average. In this situation, this stock appears reasonably undervalued vs its overall sector.

Let's take a look at one of its peers mentioned earlier: Stifel Financial. If comparing the two, Stifel has a forward price-to-earnings that is 12.6% above the sector average and a price-to-book 41% above the average. So, it seems less overvalued on price to earnings but more overvalued on price to book value compared to Jefferies.
Based on the examples I gave, I would recommend this stock on the basis of valuation even though it is overvalued on price to earnings it is offset by the price to book value.
Share Price
In this category, I will use a very simplistic investment idea to determine if the current share price presents a value buying opportunity right now or not.
First, I pulled the YCharts (as of the writing of this article, so the price shown is not real-time!) which shows a share price of $36.34, compared to its 200-day simple moving average "SMA" of $34.50, over the last 1 year period.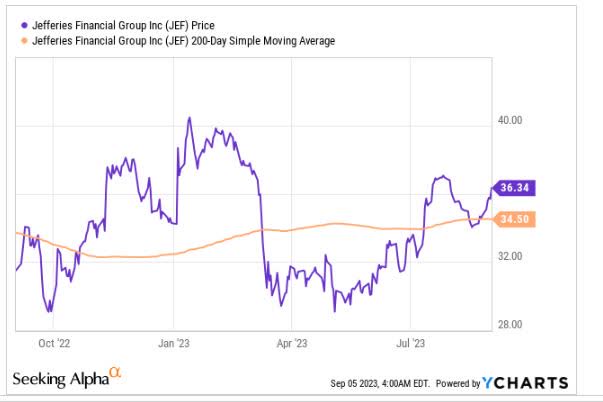 Second, I determine what my goal is for return on capital and what my risk tolerance is for capital loss, if I buy 10 shares at the current share price and hold for 1 year to also earn a full year of dividend income.
My goal is positive +10% return on capital, and my risk tolerance is a -10% negative return on capital.
After holding for 1 year, I plan to sell the 10 shares. The following simulation tests what happens if the share price I sell at in Aug. 2024 is +10% above the current SMA, and what happens if it has dropped to -10% below the current SMA:

In the above example, I missed my profit goal by 2.27% and also exceeded my loss limit by 1.25%.
With that said, the current share price does not present a buy opportunity and in my opinion I would not recommend it. However, readers should still run their own simulations based on their individual portfolio goals which I cannot advise on here, as their risk tolerance and profit goals may differ from this idea above. It is simply a framework with which to think about potential gains and losses if buying at the current price.
Also, note that the above idea can create two potential tax events: dividend income and capital gains. This ought to be discussed further with your tax pro for consultation on this topic.
Earnings Growth
In this category, I examine the earnings trends comparing the most recent quarterly results to the same quarter a year ago, including both top-line and bottom-line income, and other relevant topics related to earnings I think should be discussed for my readers.
On a YoY basis, this firm showed positive growth in net interest income, which I think is a reflection of the favorable rate environment of the last year, providing tailwind to this firm's interest income.

Unfortunately, the YoY total revenue growth was negative, putting a dent in the picture of their top-line results. In addition, since November 2022 there seems to have been a steady decline in total revenues, which is a relevant point to mention.

Further, the bottom line also was disappointing, with a YoY drop in both net income and a paltry 5 cents earnings per share. Since last August, there shows a downward trend in net income actually, so it is not a one-quarter phenomena I don't think.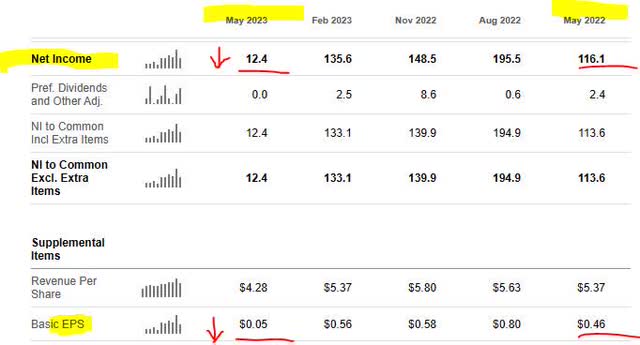 To help me understand what was the driver behind some of these losses, I turned to the quarterly earnings release for some guidance.
According to the release, the company mentioned "$72MM of pre-tax losses related to OpNet (formerly Linkem), a legacy merchant banking investment."
Further, the company elaborated as to some of the headwinds they have faced this year:
Investment Banking net revenues for the quarter were $510MM, down 10% from the prior quarter and 26% from the same quarter last year, primarily due to subdued mergers and acquisitions activity.

… Uncharacteristically low volumes of capital markets issuances and mergers and acquisition activity that has followed the rapid increase in interest rates was even more evident during this three-month period.
The income statement also reflects a general downward trend in their investment banking revenue since November 2021, and this is a major component of this firm's core business.
Based on this evidence, I would not recommend in this category.
Financial Health
In this category, I will discuss whether this company shows strong financial fundamentals in the realm of capital, liquidity, and overall balance sheet and cash flow topics.
On a positive note, the firm continues to be committed to returning excess capital back to shareholders via dividends and share repurchases.
Recent developments include:
… declared a quarterly cash dividend equal to $0.30 per Jefferies common share, payable on August 25, 2023.

… currently have a $250 million authorization for future share repurchases.
Unlike the banks I have covered recently, this firm does not make use of the CET1 ratio as an indicator of capital strength.
We can see, however, from their balance sheet below, that the firm is awash in assets and cash, with $53.7B in total assets and $8B in cash. They also have shown positive equity as well, which I think is a vital sign.

Being in the top 12 investment banks in the US, I am confident this firm will continue to remain in overall strong financial health going into the next quarterly results.
I would recommend in this category, based on the evidence found.
Rating Score
Today, this stock was recommended in 3 of my rating categories, earning a hold rating from me today. This is in line with the consensus from analysts and the quant system.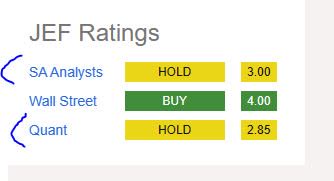 What does this mean for my readers? While I don't consider it a current buying opportunity, I do see the potential for unrealized or realized gains for those that bought during the spring price drop that dipped to around $30 a share, so if you are still holding now you may be seeing around 20% gains in share price, and the potential for additional gains if that share price goes up further.
My Rating vs. Downside And Upside Risk
My neutral rating can face both a downside and upside risk related to the situation with investment banking right now, since that is a major core business for this firm. For one thing, I already mentioned the subdued activity in their investment banking shop. Also, consider the level of competition they have in this space for an increasingly smaller chunk of IB business lately, when looking at the top 20 investment banks in the US:

Consider also a late June story in Reuters that highlighted the decreasing amount of business in this space:
Global mergers and acquisitions (M&A) activity fell 36% year-on-year in the second quarter.

The total value of M&A fell to $732.82 billion in the second quarter of 2023 from $1.14 trillion in the second quarter of 2022, according to Dealogic data as of June 29, as high interest rates and a stand-off over the U.S. debt ceiling kept dealmakers on edge.
In my opinion, if this trend continues, considerably smaller shops like Jefferies (in comparison to its mega competitors) could see more bearish sentiment from the market reacting unfavorably and the share price could reflect that.
However, there could also be a rebound in the M&A space which would make my outlook too cautious, and some analysts believe this scenario could occur.
For example, as early as March an article by SA analyst Welbeck Ash Research highlighted some data that could point to a turnaround:
PwC's outlook suggests things could pick up in the second half of the year, as market participants better understand current conditions and valuations normalize. Deloitte concurs with this view, believing that total volume / value will be about 15% below that of 2021, but importantly not a repeat of 2008/09.
Hence, my neutral /hold rating stands, as it is still too early to see how the above scenario plays out completely.
Analysis Wrap Up
To wrap up today's discussion, here are the key points we went over:
This stock got a hold rating today.
Its positive points are: dividends, valuation, financial health.
The headwinds it faces are: share price, earnings YoY growth.
Both upside and downside risks have been addressed.
In closing, I recommend adding this stock to a watchlist of financial sector stocks, while waiting for headwinds in the investment banking space to ease up.
link