Results were largely fuelled by Canadian banking earnings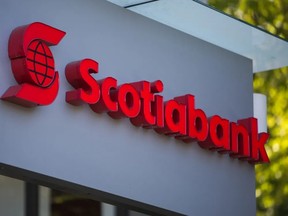 Article content
The Bank of Nova Scotia is raising its dividend after net income surged to $2.76 billion in the second quarter, driven in part by loan growth in its Canadian and international segments.
Article content
The net income figure amounted to a 12 per cent gain over the $2.47 billion reported in the same quarter last year and on an adjusted basis worked out to $2.18 per share for the three months ending April 30 was up from $1.90 last year. Bloomberg analysts had been expecting a profit of $1.97 a share.
Scotiabank also increased its quarterly dividend by three cents per share to $1.03 to be paid on July 27.
The lender noted its results were largely fuelled by Canadian banking earnings, which grew by 27 per cent year-over-year, as well as stronger mortgage and commercial loan growth, lower credit-loss provisions and robust revenue from fees. The growth in the mortgage business suggested the impact of rising interest rates has yet to set in.
Article content
CIBC cuts price targets for Canada's big banks as macroeconomic picture becomes less certain

Bank of Montreal raises dividend as profit climbs

Solid second quarter expected for big banks, but will it be the calm before the economic storm?
Earnings from its international banking business reached $605 million this quarter, up from $420 million last year, fuelled by lower credit loss provision, lower non-interest expenses and a boost in revenues as global economies recovered.
During a Wednesday morning conference call, Scotiabank president and chief executive officer Brian Porter said the bank was well-positioned to withstand an economic slowdown.
"Despite the macroeconomic and geopolitical uncertainties in recent months, we are encouraged by the resilience of our businesses, and the progress of our organic growth initiatives aimed at enhancing customer experience, operating efficiency, and future growth for the bank," Porter said. "Strong customer balance sheets, combined with prudent expense management, positions the bank very well to grow its earnings."
Article content
Porter added that despite uncertainties, the macroeconomic backdrop still remains positive, largely supported by soaring commodities prices and the strength of businesses and households.
In other segments, Scotiabank's global wealth management grew by nine per cent, largely driven by higher brokerage revenues, mutual fund fees and net interest income. Global banking and markets brought in $488 million for the quarter on the back of stronger revenue and loan growth in corporate and investment banking.
The results were well-received by analysts, including Barclays head of research and senior analyst John Aiken.
"Scotia came in well ahead of expectations, with the continued growth in International along with a better-than-expected increase in the dividend the stock should see some support in the market," Aiken wrote in a note to clients. "Scotia also showed the margin expansion that the market has been looking for in conjunction with rising rates."
Article content
Aiken added that the bank's capital markets business took a hit, though he does not expect Scotiabank to be unique amid slowing market growth.
"The only real knock on the results will likely be Scotia's lower-than-peer regulatory ratio, which was drawn down again from share repurchases," Aiken wrote. "While we believe that (Scotiabank) is heading towards a much more efficient capital level, the market does not like outliers, particularly where capital and an uncertain outlook is concerned."
Scotiabank's regulatory capital ratio, or the amount financial regulators require a bank to keep on hand, dropped 40 basis points to 11.6 per cent due to share repurchases and the purchase of an additional stake in Scotiabank Chile.
Article content
Leading up to the results, bank analysts had been expecting strong results across the Canadian banks. However, a gloomier macroeconomic outlook is expected to weigh on performance going forward.
When asked about the higher probability of a recession, Scotiabank's Canadian banking group head, Dan Rees, reiterated that the team was pleased with the company's results and did not anticipate making any credit adjustments in light of a slowing mortgage market.
"There are some (housing) markets which have obviously grown more and in the buyers' favour based on softening (demand), but we don't plan to be adjusting our sales or credit stance at this point," Rees said.
He noted that while loan growth was expected to moderate from the 16 per cent jump in the second quarters, it would still likely check in in the high single digits next quarter.
"So, slowly slowing, and we're pleased with how we stand," he said.
Shares of Scotiabank opened up more than three per cent to $84.14 in Wednesday morning trading.
• Email: [email protected] | Twitter: StephHughes95

link